11.11.13
This weekend it rained and poured and hammered down and chucked it down and then it rained some more for good measure.
On Saturday we stayed in, put the heating on and spent time reading, watching the rain and, of course, beating up Daddy with swords and flails!
These are the faces I got when I asked for their scariest knight faces – not sure either of them understood what I was after!
Ez has started pulling a proper 'shocked face' recently. This one was after witnessing Annie stabbing her Dad with a sword, bless him.
On Sunday the weather resulted in a cancelled photo session so instead we all bundled up and headed over to Gloucester Quays. Annie loves looking at the house boats and describing what she thinks it'd be like to live on one. As we were standing there a woman walked out of one with her two dogs and Annie nearly fell over with shock.
After some splashing about we ducked into a coffee shop for a hot chocolate and croissant. We were all soggy and cold but it was toasty warm indoors and we soon dried off.
Ezra kept asking for the foam on top of my hot chocolate and Jon's coffee but whenever we offered him some he blew raspberries at it and turned his head away, nutter!
Before going home we went into Toys R Us. We'd never taken Annie in before and she was very impressed. She tried out a skateboard, sat in all the electric cars, played with a talking Yoda and found a Peppa Pig kitchen. Ez fell hard for a Spiderman cushion that I totally regret not buying now – grrr!
When we got home it was time for more relaxing and a viewing of Brave.
Was your weekend a dry, wet or snowy one?
Linking up with Point + Shoot over at sunny + scout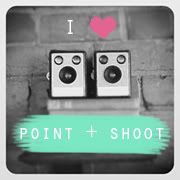 >
5 Responses to "Point + Shoot – Rain"

Leave a Reply